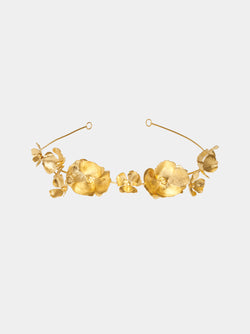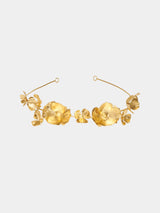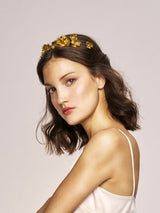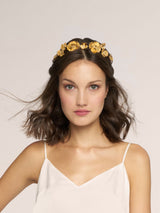 kj. atelier
Soleil hair band
This extraordinary hairband is inspired by the poppy flower, the delicate petals are carefully handmade and the organically shaped flowers give this hairband a sculptural touch. After the wedding, it can also be worn around the neck as a statement piece.
This jewelry piece can be worn on the top of your head or as a frame for your updo around the back of your head. If you want to wear the jewelry in the back, you can attach it with the included ribbons or pin it into your hairstyle with bobby pins.
length 40 cm
gold plated brass
gold plated silver balls
comes with golden ribbons
handmade in Berlin
This product is ready to ship within one week. If it is sold out, contact us and we can make it for you within 3-6 weeks.